Scarlet is a revolutionary treatment that utilizes RF (radiofrequency) and microneedling to rebuild collagen in the skin. This treatment will smooth fine lines, tighten skin, decrease pore size and improve the texture of the skin. It will also drastically improve acne and acne scarring. Combine this with your own growth factors using PRP (platelet-rich plasma) to enhance the results and speed up recovery.
Watch real people get real results with Scarlet RF Microneedling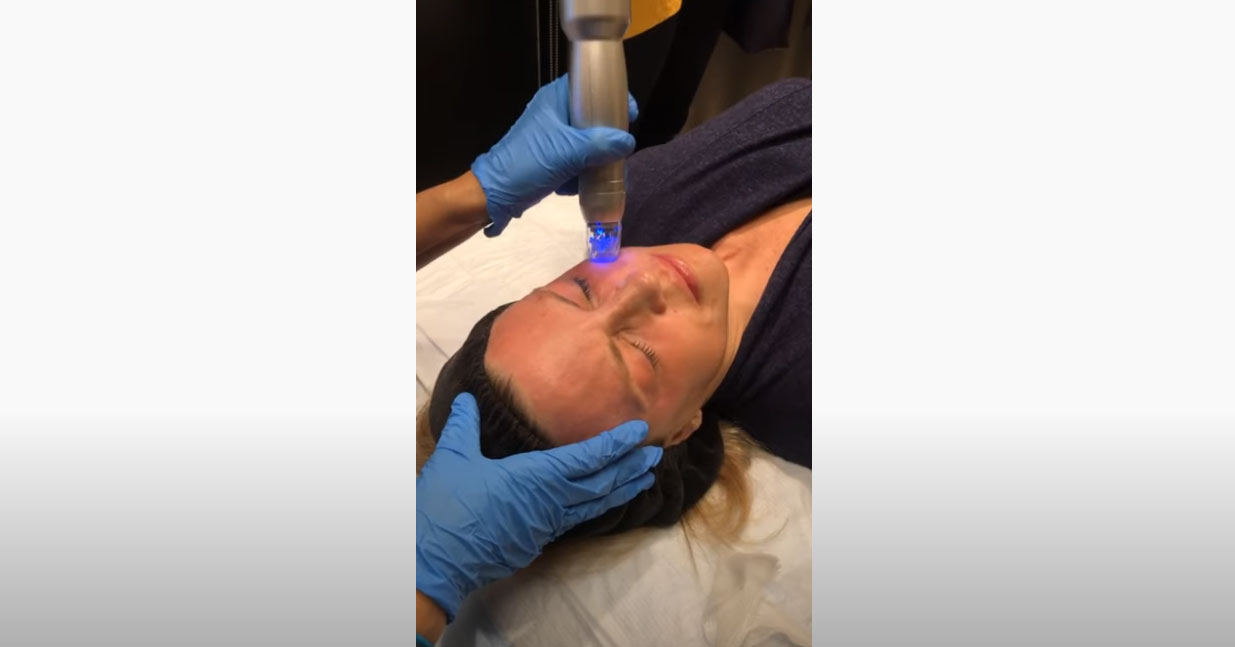 Scarlet affects the whole dermis, it reduces pores and improves skin texture at the epidermis
I am in my 50's and when I lost 40 pounds, my neck and face appeared to sag more. Deja Vu told me about the Scarlet and I decided to try it as I am always looking for natural ways to help with aging. The biggest hesitation was likely the price of the Scarlet. Deja Vu had a great special and I was happy I signed up for the treatments. I chose Deja Vu for my Scarlet treatment because I have been a customer for a number of years and also bring my daughter regularly for acne treatments. All of the staff are excellent! I could go on about how each one is so amazing! I always have a great experience at Deja Vu. I liked that Deja Vu took before and after pictures so I could see the difference. My pore size had decreased, my skin was firmer, less sagging, my neck was tighter. Without seeing the pictures, I noticed changes after the first Scarlet treatment, especially in my neck. Also, the lines in my forehead decreased. Deja Vu always makes me feel welcome. They really care and I feel like part of their family. Angela did my Scarlet treatments and she did an excellent job. She is so caring, gentle, and made the experience so worthwhile!
— Barb F.
Request an appointment today!
At Deja Vu Med Spa, we make it convenient to plan your visit. Click the link to request an appointment that fits your busy schedule. We can't wait to see you.
Questions?
Read our frequently asked questions below to see if you can find the answer you're looking for!
Scarlet will tighten the skin in the scalp, face, neck, and body. It can also lift the eyelids and improve skin texture, pores, photoaging, scars, acne, and stretch marks.
The cost varies by the area but can range from $2400 for three face treatments to $5000 for multiple large areas (like stretch marks). Most clients will need a series of three treatments performed about 6 weeks apart.
There are many types of RF microneedling devices on the market. These include the Scarlet, Vivace, Secret, and Infini. We believe the Scarlet is superior due to deeper energy penetration with minimal surface compromise. This results in better results with less downtime.
Visible tightening results come immediately and the results of dermal remodeling appear over time in the course of new collagen, elastin fiber regeneration, and vascular remodeling. For most clients, measurable results appear gradually in 2-3 months. The results can last 6 months to a year following a treatment series depending on your skin condition and the aging process.
You should not have this treatment performed if you have an implantable metal electrical device such as a pacemaker, cardioverter or defibrillator. You should also avoid this if pregnant or breastfeeding. If you have had keloid or delayed recovery, you are not a candidate. We also do not treat clients with a history of skin cancer in the areas to be treated.
We recommend avoiding blood thinners (NSAIDs) for one week. Avoid lasers, LED light treatments or chemical peels for 4 weeks before your treatment. Avoid all skincare products containing retinol for 4 weeks. Discontinue Accutane use 6 months prior to treatment. Drink a lot of water for 4 days before the treatment. Avoid sun tanning, sun exposure and spray-on tanning for 2 weeks before.
Cleanse with a gentle cleanser. Use the recommended post-care for 48-72 hours and add growth factors and hyaluronic acid for quicker healing times. Avoid using any products containing retinol or acid cleansers for 2 weeks. Avoid the sun, sun tanning or spray tanning for 2 weeks after treatment. Always wear an SPF of 25 or greater.
Most clients report only slight discomfort or no pain at all. We do use a topical anesthetic for numbing and it is included in cost of the treatment.
Unlike laser treatments, Scarlet is safe on all skin types. Scarlet will provide total skin rejuvenation with minimal chance of post-inflammatory hyperpigmentation.
We recommend picking up the numbing cream ahead of time. This will save 30 minutes in the office. It takes about 20 minutes to treat the face and 10 minutes to add the neck or chest. Larger areas will vary based on size and may take 20-50 minutes on average.