Do you have some extra fullness beneath your chin? Maybe it's something you've had your whole life, something that developed over the years, or something you noticed recently. This is a condition called submental fullness, which some people refer to as "double chin."  
The active ingredient in KYBELLA® is synthetic deoxycholic acid. Deoxycholic acid is a naturally occurring molecule in the body that aids in the breakdown and absorption of dietary fat. When injected into the fat beneath the chin, KYBELLA® destroys fat cells, resulting in a noticeable reduction in fullness under the chin. Once destroyed, these cells can no longer store or accumulate fat, so further treatment is not expected once you reach your desired aesthetic goal.
Before starting treatment, we will examine the area under and around your chin to determine if KYBELLA® is right for you. Then, your injector will tailor your treatment to the amount of fat under the chin and your aesthetic goals.
Watch real people get real results with Kybella
No more chin fat, See how Kybella easily and permanently gets rid of double chins making you look years younger
Get rid of chin fat fast with Kybella! Learn how quick and easy it is to get rid of chin fat permanently in 1-2 treatments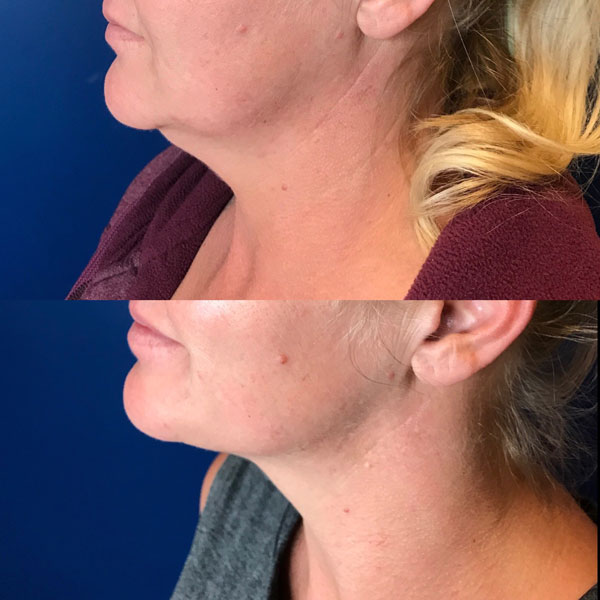 I am a 43-year-old mom of a six-year-old. I came into the med spa looking to feel a little fresher; a little more confident about myself. I'm about to reenter the workforce as my son is now in school full-time and I needed a little boost. I am not self-conscious to take pictures with my son or even a selfie up close. Before Kybella, whenever I would smile you would see the double chin and a turkey neck there no matter what I did. There's only so much you can do to hide it and scarfs in July in Phoenix just look weird. This gave me an incredible amount of confidence and as silly as it sounds made me feel a lot better about myself. I have a jawline now.
— Wendy, 43
Request an appointment today!
At Deja Vu Med Spa, we make it convenient to plan your visit. Click the link to request an appointment that fits your busy schedule. We can't wait to see you.
Questions?
Read our frequently asked questions below to see if you can find the answer you're looking for!
KYBELLA® is a prescription medicine used in adults to improve the appearance and profile of moderate to severe fat below the chin (submental fat), also called "double chin."
It is not known if KYBELLA® is safe and effective for the treatment of fat outside of the submental area or in children under 18 years of age.
Do not receive KYBELLA® if you have an infection in the treatment area.
Before receiving KYBELLA®, tell your healthcare provider about all of your medical conditions, including if you:
Have had or plan to have surgery on your face, neck, or chin; have had cosmetic treatments on your face, neck, or chin; have had or have medical conditions in or near the neck area; have had or have trouble swallowing; have bleeding problems; are pregnant or plan to become pregnant (it is not known if KYBELLA® will harm your unborn baby); are breastfeeding or plan to breastfeed (it is not known if KYBELLA® passes into your breast milk).
Tell your healthcare provider about all the medicines you take, including prescription and over-the-counter medicines, vitamins, and herbal supplements. Especially tell your healthcare provider if you take a medicine that prevents the clotting of your blood (antiplatelet or anticoagulant medicine).
KYBELLA® can cause serious side effects, including
Swelling is likely and can last 2-14 days on average. The swelling generally became less severe and happened less often with each following treatment session in clinical studies

Consider any upcoming social plans and work commitments following your treatment

Nerve injury in the jaw (which can cause an uneven smile or facial muscle weakness)

Trouble swallowing

Injection site problems including bruising, hair loss, infection, open sores (ulcers), damage and tissue cell-death (necrosis) around the injection site.
Call your healthcare provider if you develop open sores or drainage from the treatment area
The most common side effects of KYBELLA® include swelling, pain, numbness, redness, and areas of hardness in the treatment area.
Please see accompanying full Prescribing Information, or ask your healthcare provider, or visit MyKybella.com.
 Kybella results are permanent. It may require several treatments.
The price of Kybella® can vary. We charge per treatment regardless of how many vials are used per treatment. Most clients will need anywhere from two to six treatments. The average cost per treatment is $1200.
Swelling is likely:
Most reported cases of swelling were mild or moderate and lasted an average of 11 days.

Swelling, generally became less severe and happens less often with each following treatment. 

Consider any upcoming social plans and work commitments following your treatment. Plan to have at least 2 days of downtime following your treatment.
Bruising may occur and will resolve in about 3-7 days. 
Soreness and numbness may occur and is temporary.
Both treatments will remove fat and make the area look thinner and more defined. Kybella results will also include skin tightening in the areas treated. See the RealSelf reviews.